We need you!
A woman's Billings Ovulation Method® fertility record has significant diagnostic applications.   Our Accredited Teachers are trained to assist a woman in keeping a careful record, to recognize abnormalities in the cervical mucus and bleeding patterns which may indicate a hormonal or reproductive problem, and to collect a Health & Symptom History for diagnostic purposes.    Therein lies the difficulty.   We need more physicians in Alberta to whom we can send our clients!   We need physicians who appreciate the diagnostic applications of the Billings Ovulation Method in the investigation and treatment of gynaecological and reproductive abnormalities.   Dr. Mary Martin shares her journey in the discovery of this method and it's applications in women's health.   Story here.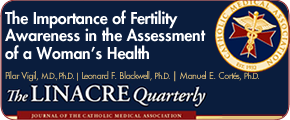 Opportunities to learn more:


Part One & Two Teacher Training Workshops 2017
Calgary,  March 24 – 26, 2017
Edmonton, April 21-23, 2017
Grande Prairie, July 14-16, 2017
 FEMM Medical Management Courses 2017
Rome, Italy  March 4-7, 2017
New York, NY June 2 – 4, 2017
Contact us to learn more.  Case Studies coming soon.